Topic: We digress | By CJP | February 23, 2009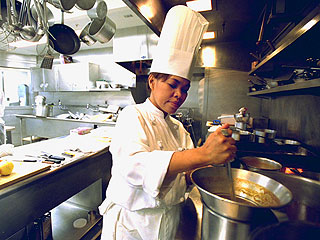 Q.  Riddle us this, Janes:  What do you get when you cross "Top Chef" with "The West Wing?"
A.  The White House kitchen, which Michelle Obama shared with culinary students and the world yesterday on C-SPAN.   On the tour, we get to meet the White House chef, Cristeta Comerford (at left), as well as the staff of the kitchen, and we find out what it takes to satisfy cravings ranging from a 7-year-old's pancake habit to attendees at a state dinner looking for a taste of America.  We also learn:
The White House uses locally grown ingredients as much as possible, but farmers do not know their products are headed to the president's plate, for obvious security reasons;
Michelle Obama describes the staff as "professional and gracious," and thanks the pastry chef for helping the Obama girls make dessert with friends;
The president loves scallops;
The First Lady likes to eat local, seasonal and organic, and loves the kitchen's creamed spinach, which uses no cream.  Whah?
Planning a state dinner takes time, people and lots of prep, and we get to see it happen as the staff gets ready for the Obamas' first state dinner, which happened last night.
For those state secrets, as well as the recipe for no-cream creamed spinach, take the full White House kitchen tour with Michelle Obama over at C-SPAN by clicking HERE.
Comments