---
Topic: CJP | See All | By CJP | August 12, 2014
The good news:  CJP is getting a much needed refresh.  The bad news:  We can't think of any.
See you soon, Janes!
---
---
Topic: Voting | See All | By CJP | August 7, 2014
Here's an easy quiz:
Do wear cowboy boots with a strapless dress as day wear?  Does the word "smoky" make you want to put on your hiking boots?  Is your name "Dolly?"
If you answered yes to any of these, you are either a student at Vanderbilt University (Anchor down!) AND/ OR you live in Tennessee and you're voting in today's primary elections.  Click HERE to double check your registration before you head to the polls and HERE for CJP's easy breezy voting guide to find out everything else you need to know about making your voice heard when you're not belting it out on a Nashville stage.
Polls are open 7 am to 7 pm, so that's 12 whole hours to sing it, sisters!
---
---
Topic: Morning Jane | See All | By Patricia Murphy | August 6, 2014
CJP has long believed that the spouses of politicians are the secret sauce of the world leaders themselves.
For exhibit A in that argument, check out two of our faves, Laura Bush and Michelle Obama at today's U.S. Africa Leaders Summit, where Mrs. Obama said what we're all thinking:  "Life is short, change is needed, and women are smarter than men."
PLONK!
BTW:  Love the top knot, love the mixed prints, love the shoes, love it all.
The full video is HERE at our beloved C-SPAN.
---
---
---
Topic: Morning Jane | See All | By Patricia Murphy | August 5, 2014
Ladies, if you live in Kansas, Michigan, Missouri, or Washington state, it's primary day.
Whether you're looking to throw the bums out or keep the leaders you've already got, your primary vote is a crucial part of making that happen.
Just click on your state on CJP's super-cool map of 'Merica HERE and get all the details you need about getting serious about our country's future.
On a final note, DO IT:-)
---
---
Topic: Voting | See All | By CJP | August 4, 2014
It's time to cowboy up, cowgirls.
If you live in Wyoming, August 4th is the last day to register to vote in the 2014 primaries.  If you have never voted in Wyoming, have moved counties, OR skipped the last general election (we're not judging), it's time to get right with the voting gods.
Just click on over to CJP's state-by-state voting guide for everything you need to know to about registering, voting, and roping steer in the Cowboy State.  OK, one of those is not true, but you'll have to click on the map to figure out which one.
---
---
Topic: Morning Jane | See All | By CJP | August 2, 2014
Fancy Farm.  It sounds so sweet, doesn't it?  Like a porch swing in a cool breeze.  But don't be fooled by the name, ladies, because Alison Lundergan Grimes certainly isn't.  That's Kentucky's 35-year old Secretary of State, who is running for Senate as a Democrat against Mitch McConnell, the Republican Leader of the U.S. Senate and essentially the most powerful Republican in Washington.
You may or may not share ALG's politics, but we can't help by be impressed with the smack down she delivered to McConnell at the state's annual church picnic, all with him SITTING NEXT TO HER.   If you've ever struggled with public speaking, especially at nationally televised Lincoln-Douglas-style debates, may we suggest taking a look at the clip above, and then joining us in saying to Sec. Grimes, "Damn girl!"
For those keeping track, here is Sen. McConnell's response.  (All video is courtesy of Kentucky Educational Television):
---
---
Topic: Women in Politics | See All | By CJP | July 31, 2014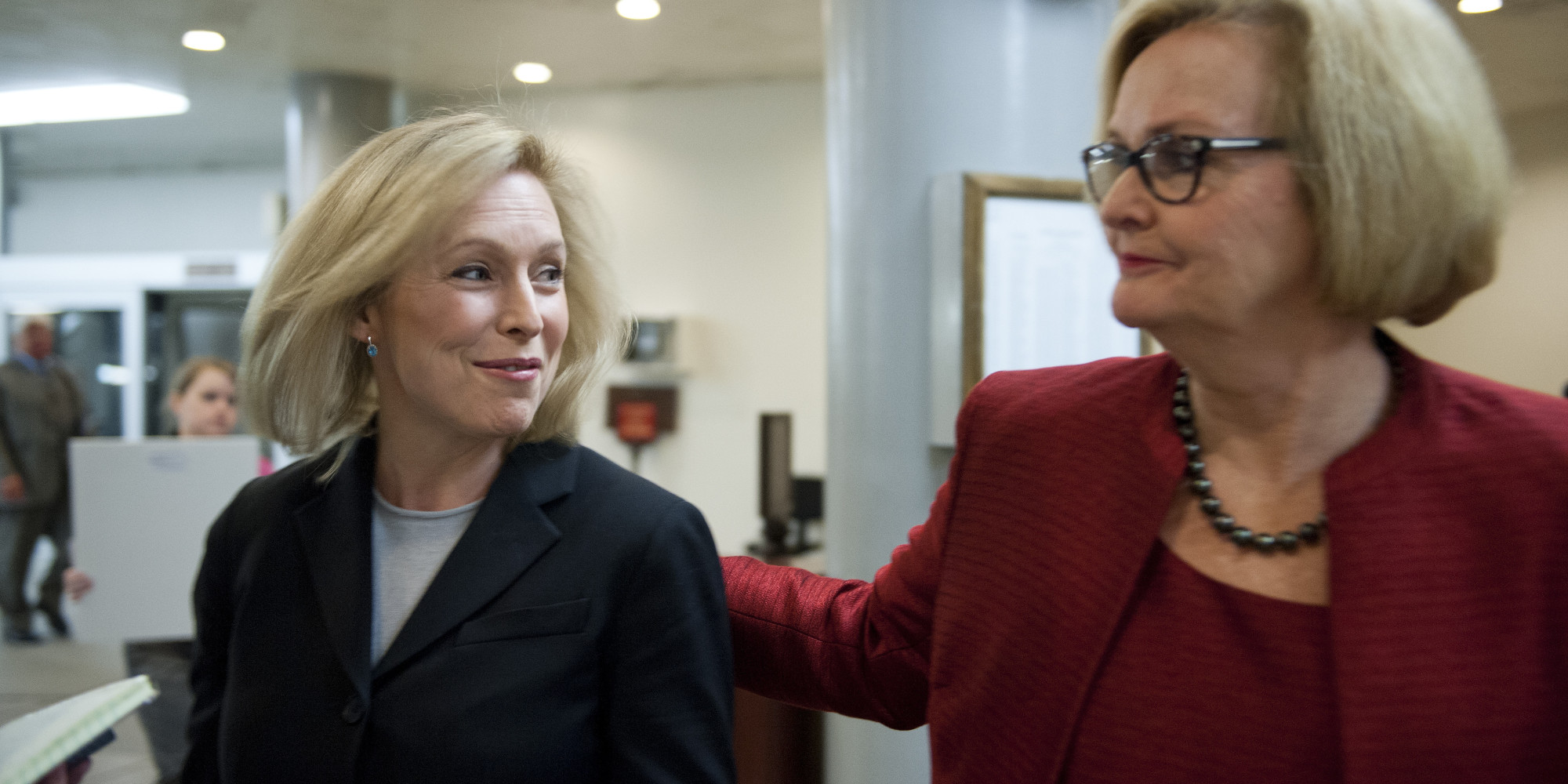 It's sad to admit, but the 113th Congress has mostly been one hot mess.
Government shutdown?  Check.  Dysfunction and finger pointing?  Check, check. Border crisis with no solution?  Oh yes.
But the truly inspiring exception to the rule, ladies, has been the leadership of the women in the U.S. Senate.  Their latest bi-partisan accomplishment came on Wednesday, when Sens. Claire McCaskill (D-Mo.), Kirstin Gillibrand (D-N.Y.), Kelly Ayotte (R-N.H.) and a handful of male senators came together to introduce a bill to force American colleges to radically change the way they treat reports of sexual assaults on their own campuses.
The legislation would require colleges to conduct regular anonymous surveys of students, which then must be reported to the Department of Education.  It would also require training for staff and students, take investigations out of the hands of athletic departments (duh), and provide funding for a confidential adviser for any student who reports an assault.  Audio of the senators' press conference, courtesy of C-SPAN, is HERE.
It's no coincidence that McCaskill and Ayotte are both former prosecutors, Gillibrand is also a lawyer, and all of the male senators who put their name on the bill have daughters.
With so little happening on Capitol Hill, a few good women are taking forging a different path.
---
---